I would ask that you consider doing something that will make a real difference in the world. Dr Catherine Hamlin (Aunt Catherine) is one of many people who selflessly give their lives to others. Please consider doing something meaningful through financial support.
If you are in Australia and would like a public speaker for your event who has visited the hospital, please contact me!
Or email joanne@pptworkbench.com for more details.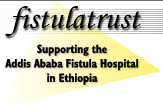 ---