Really finding Outlook Contacts
Logic: when you want to find more than your contact, but where they live! Perhaps, you might even want to drive there???
Please note: Don't bother will a dial up connection for this one.
I have created a custom Contact for someone.
You can see the address (Number 1) where I have included the street address, state, country and Zip code.
Notice the little button called "Map" (Number 2)?
When the "Map" icon is clicked, a search will take place via the web looking for the location. In my version of Outlook 2003, the website goes to MapPoint dot com. In this 2007 version, it goes to Local dot Live dot com.
This particular map, of course, shows the location of the Microsoft campus in Redmond. We have:
Number 1: The map location,
Number 2: a choice between the road network, and aerial photographic map, or a combination,
Number 3: a scratch pad of the address location and various options,
Number 4: our 2d/ 3d toolbar.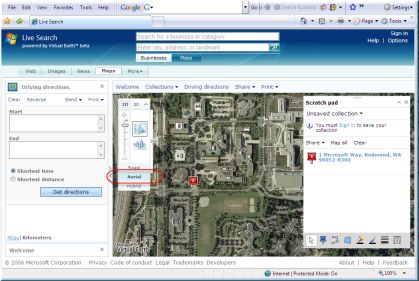 This is what aerial view looks like (above).
We are currently in 2d. Clicking the 3d button will toggle the 3d view. Note that you may be prompted to install software before seeing the 3d view.
This is the 3d view. You now have the same road and aerial/ hybrid options. But you can also roll the map over and tilt it. You should get a prompt with the following information:
This is just a start to what you can do. Enjoy!
---