Friday: "Just the FAQ's"
Logic: build your own FAQ with this powerful tool
Friday is an amazingly powerful program that will let you produce Frequently Asked Question (FAQ's)outputs for a variety of reasons. In this example, we'll build a staff induction kit.
But, think induction kits, frequently questions, organizational overviews, help centre questions and so on.
This is not a tutorial, as much as a demonstration! I'm being a bit courageous here, as there is much more to Friday than I can cover in one demonstration.

Well, this is what you get when you first start Friday. Not bad, but let's look under the hood.
Friday starts as a dialogue box where you can access a number of options. This will not go through all of them, but we will see just how easy it all is. On the first cut, I'd recommend the wizard. Also, you'll notice that next time you run Friday with a pre-existing FAQ, a lot more options will be available!
We go File| New FAQ/ Formatting Wizard.
Up jumps a box that gives us the information about what we are about to do. We click the right arrow button to move forward.
"Choose Folder" is obvious. We select where we want our FAQ on disk.
Our folder is selected, and file named. Then the arrow button again to go to the template area.
I will choose an existing template, as that is easier.
Well, it may not look pretty, but it said I could fix that later.
Next, we personalize.
There is a huge array of options, and with use, you will get used to them. I'll name the FAQ pages and other assorted jobs. naming the FAQ.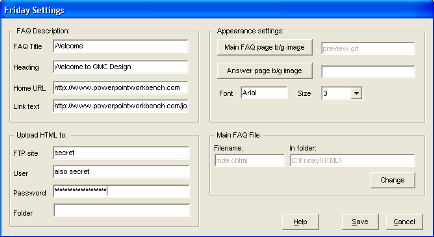 OK, not real easy to see at 400 pixels, but I don't want you to see my password <grin>. We save and the wizard box is still available.
Time to preview it.
Voila! Now to the better options. This is where the real power is.
By the way, we are done with the wizard.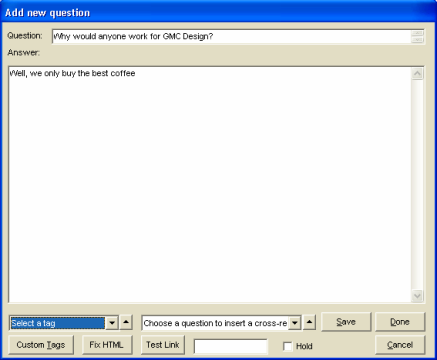 When we click on the "Insert... Question" button, a simple dialogue appears where we can add a question and answer. We can either save this and go on, or click done.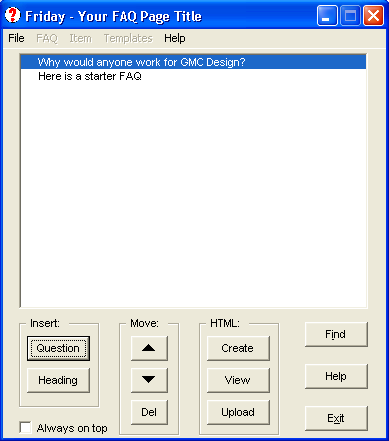 As we add questions, they stack up in our main screen.

Adding a heading is easy (Insert: Heading).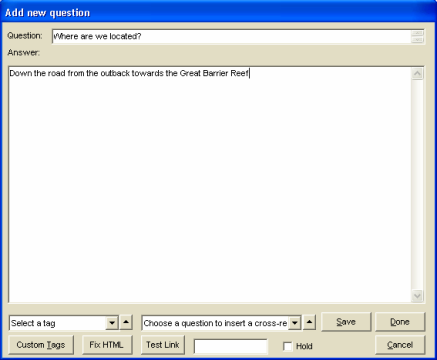 Add more questions.
And they all appear again in the main screen.
After we are satisfied with some questions, we will create our site.
Tada! So simple! The truth is, though, we have only just started. Now that we have an FAQ going and loaded, there are many more, extremely powerful options available.
By the way, a couple of features I dug out.
Ctrl+Click a question and it puts a paste-able link onto the clipboard, very handy for quickly grabbing links to paste into a document.

Shift+Click a question to get the entire content of the question on the clipboard (with other little optional extras).
Want to see a brilliant example of this?
Click here to go to an FAQ page!
© Glen Millar

Last Updated: May 10, 2003
---