PowerPoint Animations 1!
Logic: Download PowerPoint animations
You may use these animation freely for non-commercial purposes. But you must acknowledge the source. For commercial use, please contact me.
These are built entirely within PowerPoint. Normally, you would use PhotoShop as well for real production work.
---
Please Note: These examples are designed for PowerPoint 2002 and 2003 for PC. For previous versions, or if you do not have PowerPoint, please download the free PowerPoint Viewer. You will need to install it on your machine.
Then, right click the link, select Save As, and save to your hard drive. Finally, run the saved file from the viewer. They are also graphically intensive.
---
Example 1. Training Australia Magazine.
This example was written up in as an example for the article "Animating with Confidence".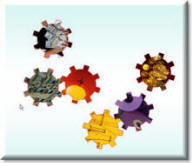 Download "cogs.pps" Here (332 KB)
---
Example 2. PowerPoint Live, 2004, San Diego
Using hidden pivot points to allow images to rotate around unseen axes. Based on a demonstration at PowerPoint Live, 2004. For more of these examples, you had better attend next year!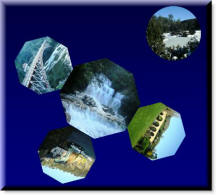 Download Tasmania.pps Here (352 KB)
Password protected.
---
Example 3. More hidden pivots
Also based on hidden pivot points. This took only a few minutes to build once I had the concept worked out in the Tasmania example.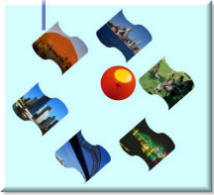 Download spin.pps Here (299 KB)
---
Example 4. Pan and Morph
An image pans across the slide and then appears to change shape.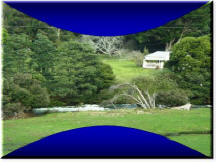 Download Pan and Morph.pps Here (585 KB)
---
---