Better Searching for Clip Art
Logic: easy way to find clip art more relevant to your needs
When working in a PowerPoint presentation, sometimes it is difficult to find suitable clip art. Alternatively, you can find a lot of clipart that is difficult to sort through. This brief tutorial shows you how you can refine your search. Let's insert a graphic that relates to business. Notice I get a result that includes an airplane.
<![if !vml]>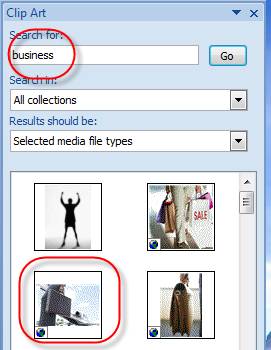 <![endif]>
This makes me think: 'I wonder if I can find more results that include "business" AND an "airplane"?'
Simple! We type in BOTH text fields, separated by a comma.
<![if !vml]>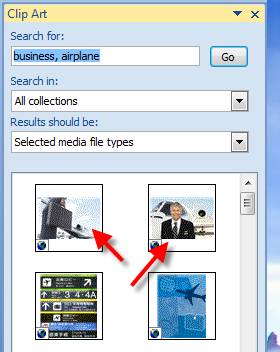 <![endif]>
Notice that now; we get two immediate results (arrowed) that cover both "business" and "airplane"? A much better way to refine our searches.
---